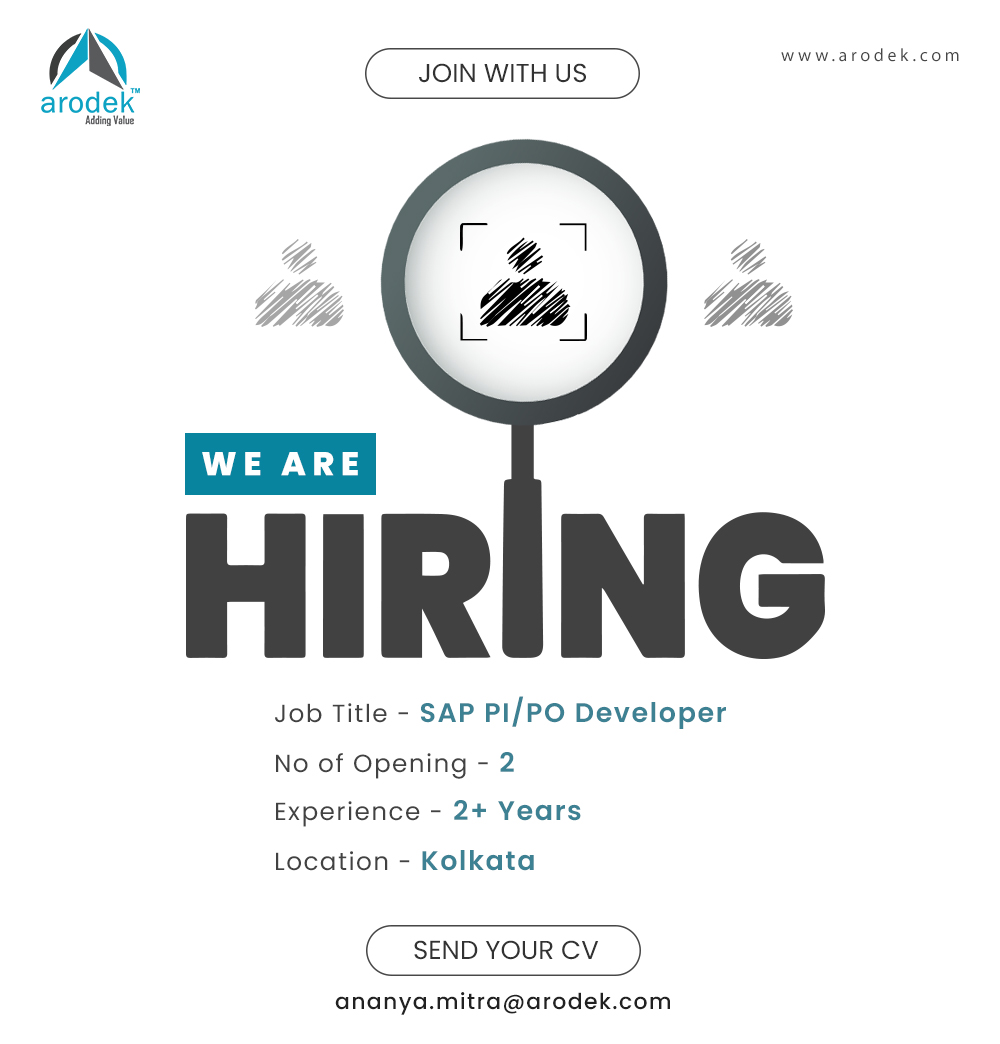 January 30, 2023 5:55 pm
Job Title – SAP PI/PO Developer
No of Opening – 2
Experience – 2+ Years
Location – Kolkata
CTC – Based on experience
Skill sets
Expertise:
2 +years of experience in SAP XI/PI with CPI/HCI Design, Configuration, and Support.
Hands-on experience full cycle implementations as an Architect/Developer on SAP PI/PO Integration projects. Must have experience in iflow and ICOs in a single stack environment with NWDS. Very good Knowledge of PI admin activities.
Good understanding of various integration patterns and best practice guidelines.
Solid experience with ALE, IDocs, BAPI, RFCs, ABAP proxies & Alert configurations.
Experience in SLD-level configurations and Transport mechanism
Hands-on experience in various adaptors FILE, SFTP, IDOC, RFC, PROXY, JDBC, SOAP & MAIL.
Hands-on experience with CPI or HCI.
Exp in UDFs, Module Configurations, Graphical mapping, XSLT mapping, JAVA mapping & parameterized mapping.
Hands-on experience in NW BPM is added advantage.
Deploy and Maintain the SAP PI system providing configuration and support.
Inbound & Outbound Queues monitoring & Exceptional Error handling.
Design and develop SAP PI in complex projects. Job Description for Support consultant:
Primary responsibility of PI support consultant to make sure the Production system is up and running.
Have extensive monitoring experience in message monitoring, communication channel monitoring, cache monitoring, and performance monitoring in PI.
Also expert in ERP system monitoring including IDOC and queue monitoring.
Experienced to handle any issue that occurred in the Production system raised by users to be resolved within the SLA.
Expert in handling incidents and tickets causing service disruption in the PI landscape
PO mailbox monitoring to track alerts and get track of the issue.
Experience to maintain the monitoring report of PI message flow including successful as well as failed.
Coordinate with other teams if issues require multiple team involvement.
Capable of fixing mapping errors, Communication channel errors.
Expert handling certificates in NWA and other keys.
Have experience in PI Admin activities in NWA.
Along with the below-mentioned details:

Expertise:
Years of Experience
Notice Period
Current CTC
Expected CTC
Categorised in:
This post was written by Moumita Das